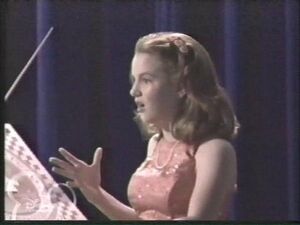 Debbie dana dani Ann Berwick was Pim Diffy friend as she was perfect and not her Pim is unhappy that It was found out that Debbie Berwick was living with her Grandma and seven cats and seven dogs her cerfew was and she can hold a note for a long time Her high note is Eb11 and her high note is falsetto she has high belting note is mezzo -soprano is vibratio and soprano is A12
In the episode Halloween it was revealed that she is one of the Sugar and Spice 800 cyborgs from the future They were supposed to be super sweet and giving and make the world a better place but something had malfunctioned Over time, they would become crazier and crazier until their sweetness turned into evil. Apparently, the cyborgs had a problem of overheating, due to their evilness. They were all then sent to the 21st century.
It was also revealed that the two things that got her mad were "naughty nibblers" and chihuahuas.

Debbie is played by Kay Panabaker, who is the sister of former DCOM stalemate Danielle Panabaker, and currently stars as Daphne Powell in the ABC adventure series "No Ordinary Family."